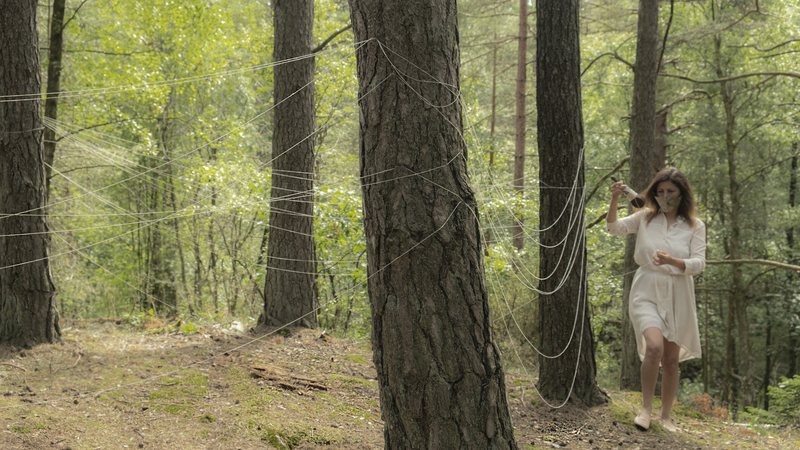 Foto: ©Bev Hayes/Gaby Berglund Cárdenas Title: Hyphae series. Photographer: Bev Hayes. Performer: Gaby Berglund Cárdenas
Intervju
Hej, vad gör du Gaby?
Publicerat 2021.02.12
Vi fångade Gaby Berglund Cárdenas konstnär, bokkonstnär och filmare – nu verksam i Göteborg och aktuell med verket Hyphae tillsammans med Bev Hayes i Londonbienallen. Deras verk blev också en del av filmen Choreography In Time And Space and at Bristol Artists' Book Event 2021 at Arnolfini, UK.

Hej, vad gör du Gaby?

I just came back from a run in the forest and I am making preparations for an upcoming solo exhibition in Gothenburg: Prints, Books and Solitary Things. It will open February 20th at Grafik i Väst Gallery specialized in printmaking and book arts. I am excited and honored about my first solo exhibition in Sweden, considering that I have been living abroad for over 10 years and that I moved back here in 2019.
Some of the etching's copper plates I started in 2018 in Houston, Texas and I printed them at Konstnärernas Kollektivverkstad Göteborg KKV during the pandemic. I wanted to explore making my own paper so, in collaboration with Kvarnbyns Handpappersbruk, I converted some of my own prints into handmade paper and collaged them. I also worked from my countryside studio and made some installations using fabric, textiles, india ink on altered Spanish bible pages.
I am also working on a few collaboration projects that hopefully will open up local opportunities for both Hayes and I.
We saw a lot of your work on Instagram, but would you like to tell us a little bit of what it is about?
One can say that my work, regardless of the media, is conceptual and I focus on the creative process. I usually document my own process as may be seen at Timespecific's Visual Memories.
I became familiar with Asian philosophies while living in South Korea (2009-2016) and I have been practicing tai chi and meditation for a few years. I spend lots of time in nature preparing before studio work. For me, whether performing, making installations, film, objects, prints or artist's books, the repetitive aspect of my process becomes a meditative ritual to explore the elemental uncertainty of time and space or social inequities with regard to gender, migrations or race. I use thread, ink, fabric, and handmade paper in metaphorical ways.
Grafikkonstnär, bokkonstnär, filmmaker, performer, Your work spans a very wide field of different art forms, what are the pros and cons of that?

Personally I don't see any cons. Some might argue that it is difficult to become specialized on a particular art form, however that has never been my goal. For me life is about learning, exploring and feeling the things we are passionate about and many contemporary artists challenge themselves and explore new mediums. In my case, I became some sort of wanderer, moving every few years, so it was an early conscious choice to become adaptable and to learn as much media as possible so that the studio space would never be a limitation for making art.
Even though my Master's in Fine Arts focuses in oil painting, I learned printmaking in South Korea, not only because it is fascinating, but because there is an element of flexibility and unpredictability with the medium. For example, working on woodcut plates gave me the flexibility to carry them in my hand-luggage during trips and to continue working with them from different places. I later started printing them on textiles because it gave me the flexibility to ship them to international galleries at a lower cost and so on.
You were born in Ecuador and has lived in many cities across both the US, Europe and Asia. What made you choose Gothenburg now?
My husband and our 2 children are Swedish and our home is here. I have dual nationality Swedish-Ecuadorian. After a decade living and working in South Korea and the USA we decided it was time to return "home".
It happens that we all moved to Busan, South Korea in 2009, during the global financial depression, to support my husband in a career opportunity. I left a job as a project manager in advertising here in Sweden and I embraced the opportunity to move to South Korea by going back to the university and studying arts, my childhood dream. I have painted since I can remember and I was taking classes here so I had a portfolio ready. I was accepted into a Master's in Fine Arts program at Kyungsung University and I have been actively exhibiting internationally after that. Some might say it was luck but I know it was opportunity meeting preparation and it was hard work.
I hope that following my path inspires or encourages my own children to explore and follow what they feel passionate about.

What do you see as typical for the creative scene here?
It is hard to say since I have been here for one and a half years and a big part of it has been during a pandemic. Before that I lived in Sweden more than 10 years ago.
So far it seems like an art of its own to learn how the system for government arts grants works. But I would say that it is all about collaborations, which in return creates pollinations. That's how my collaboration with British artist Bev Hayes was born. We met early in 2020 at Konstnärernas Kollektivverkstad Göteborg KKV where we are both members.
During the pandemic I got an invitation from Timespecific to participate in the collective film "Choreography in Time and Space" and Hayes immediately came to mind. She accepted to become the co-director and to be the cinematographer while I would be performing and making an installation in the forest. We named it "Hyphae" which is a mysterious buried network that joins single trees into forest communities. Hyphae collaboration is a metaphor for how trees of different species communicate with and support each other underground, through an invisible white web of nutrients: the hyphae. Hayes and I want to suggest that humans of all kinds could learn from nature's way of communication, especially in times of a widespread threat to our existence. I think this is also how artists can survive anywhere.

We are both so thankful and excited that our short film and photos have been welcomed in a few venues abroad and we are now exploring local opportunities.

Are you here to stay now?

Yes. I have a home, family and good friends here. At the same time I have family in Ecuador so I will always have a home and a strong connection there as well. I have learned that the best is to embrace uncertainty. Change is stimulating for the creative process so it is important to be open to opportunities such as an artist-in-residency abroad.

I recently started exploring the theme of "home", so I am curious to know where that will lead to. Actually one of the pieces in my upcoming solo exhibition is called Home.

Great Gaby, we're curious on that too. And very welcome home!
Prints, Books and Solitary Things visas på Grafik i Väst i Göteborg 20 feb-20 mars.
---