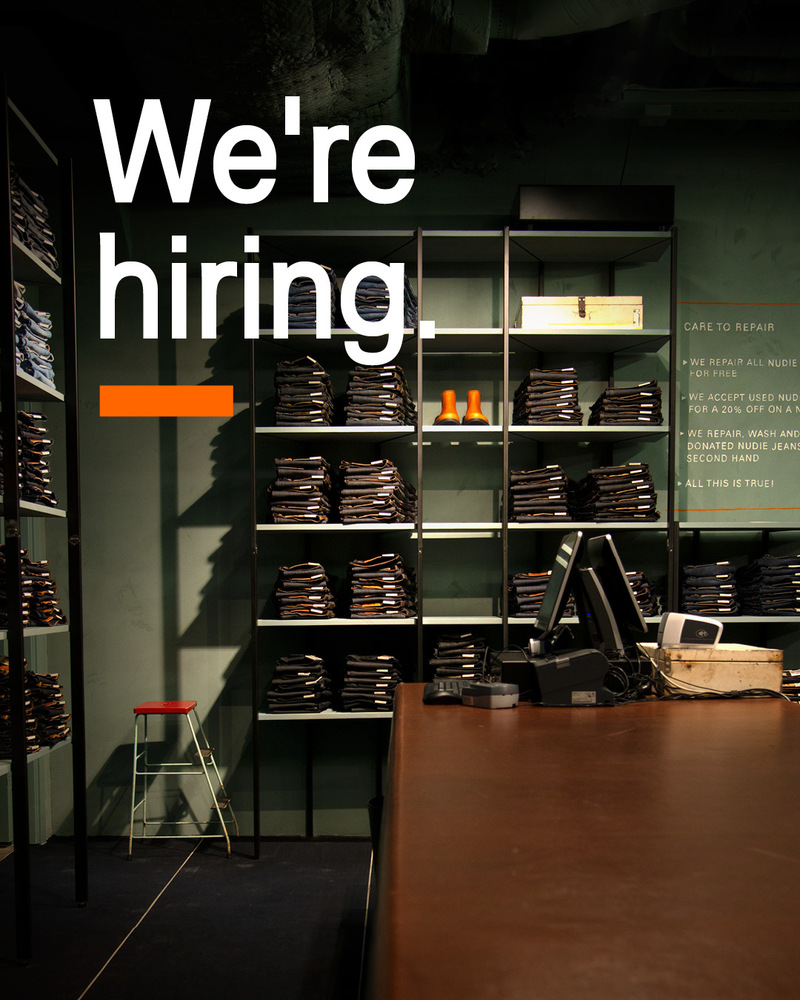 Stylist, Nudie Jeans Gothenburg
We have an opening at our Marketing Department for a Stylist position. This is a full-time temporary position for approx. 1 year starting in March/April 2020.
As our inhouse Stylist, you'll work in a tight team that conducts approx. 30 shoots per year where the Stylist is a key position to ensure high quality.
In your position as a Stylist, you will prepare and conduct styling, before and onset, for all our photoshoots. You will also be responsible for communication Nudie Jeans stylistic expression to your own team along with the rest of the departments. The position comes with the responsibility to assure a high standard in how we visually present our products in an innovative way but most importantly that's true to the brand.
Apart from styling the position has an administrative feature where you are responsible for the handovers of the campaign and product shoots on a set deadline, contact and booking MUA's, model selections together with your team, work with analysis of our collections. You're also responsible for the physical garments and making sure they're ready for the next shoot. To be successful in this role you need to have a strong aesthetic sense and an interest in fashion.
You will be based at the Nudie Jeans headquarters in Gothenburg, Sweden, and report directly to the Marketing Director.
Areas of Responsibility · Analyze sales and purchase statistics prior to styling. · Pre-production styling and putting together styling scripts prior to all Nudie Jeans photoshoots. · Product shoots- styling, image selection for decided usage areas. · On set styling · Garment preparations · Assist the design department with the visual presentation in our showrooms.
Qualifications and Essential Experiences · Previous styling experience from retail and from photoshoots · A degree in Styling or Visual merchandising and/or relevant work experience · Experience from leading a team of e.g. Make-up Artists, Models, Photographers · Ability to manage multiple projects · Basic knowledge in the Adobe Suite · Excellent written and verbal communication skills in English
Who you are · Self-driven personality with a can-do attitude and the ability to work both in a team and independently. · Flexible and results-oriented · Patient with a sense for details · An easy-going yet professional personality · Open to travel to photoshoot locations, both domestically and international
If you have a portfolio, please include it in your application. A skills test might be conducted in the recruitment process.
We only accept applications via our website, both English and Swedish are acceptable languages. Interviews will be ongoing so don't hesitate to apply!
About Nudie Jeans Nudie Jeans is a denim brand founded in Gothenburg in 2001 by Maria Erixon Levin. With a wear, tear and repair-way of thinking rather than fast fashion, the Swedish denim company provide and maintains a tradition true to the fabric's history and characteristics.
Since the beginning, sustainability, both environmental and social, has been the essence of the brand. Besides a denim collection made entirely with 100% organic cotton Nudie Jeans has a transparent production showcased on the website and has implemented an ambitious repair and reuse-program. A ripped pair of Nudie Jeans can always be repaired free of charge in a Nudie Jeans Repair Shop and a free repair kit is available to order online. If a customer no longer uses their jeans they have the possibility to trade them in for a 20% discount on a new pair, the old ones are thereafter repaired and sold as second hand in all our Repair Shops and the webshop. To completely tie the circle, the jeans that are beyond repair are used to make new products, patching material when making repairs or are recycled into new denim materials.
Nudie Jeans Co is sold in over 50 countries, in Nudie Jeans Re-pair Shops, online and at third party resellers. There are currently 31 Nudie Jeans Repair Shops located throughout Europe, the USA, Australia, and Japan.
Nudie Jeans is privately owned and the headquarter is situated in the hometown of Gothenburg.
---