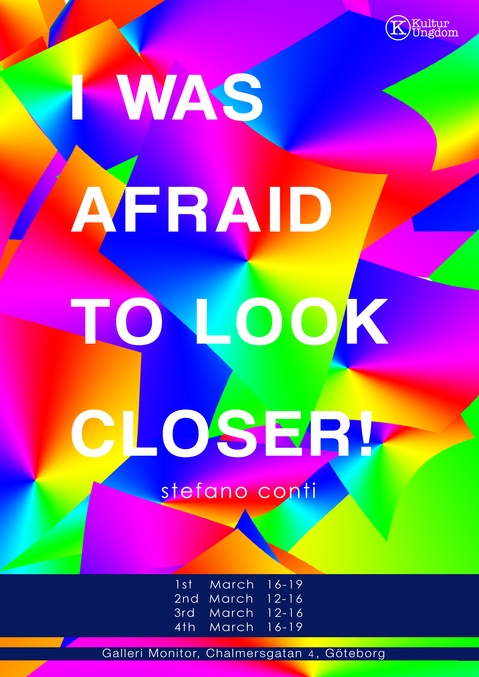 I was afraid to look closer!
Stefano Conti presents his first solo exhibition in Sweden.
"I was afraid to look closer!" is a multimedia exhibition that shows his last on-going project. Small photographs of fossils melt with a wide print that covers all the gallery floor, a big colorful collage that prevents people to walk around the space. Two videos display a slideshow of images, and on a big projection a man is secretly recorded while is excavating something from the soil. 
By desperately looking for a meaning, digging and researching, Conti is wondering if he will ever find something.
Stefano Conti (b.1994) is a photography-based artist born in Treviglio (Italy) and currently living in Göteborg (Sweden) where he is attending the MFA Photography course at Valand Academy. Previously, he got the BFA Photography degree at LABA in Brescia (Italy).
Even though photography is his main medium, the educational path led him to approach different materials and techniques as texts, sculptures and video investigating the relationships that exist between photography and objects. 
Among the others, his work has been showed in Italy at La Triennale di Milano, Galleria Ghiggini and AlbaGallery. In Sweden at the Hasselblad Center and upcoming shows will take place in Monitor Gallery, Galleri Format and other venues between Göteborg and Malmö.
Datum: 2019-03-01 till 2019-03-04
Tid: 16:00 till 19:00
Plats: Galleri Monitor, Chalmersgatan 4, Gothenburg
Arrangör: Stefano Conti